Enroll NOW to Win Your Prize
Calling all SUP enthusiasts we will be holding aSUP Event this coming September 4 (Sunday), this year we are add up more categories to cater more different type of your to join our fun day!!!! Don't hesitate come and join us!!!!
Date: 4th September, 2016 (Sunday)
At Long Coast Seasports (Lower Cheung Sha Beach)
Age: 15 or above
All participants include gift T-shirt, sponsor drinks and three Prizes for each category
Application Fee:
HKD200 per person (For one single SUP categories, you can choose 200M race or 4KM race)
HK$300 per person (For enroll both single race 200M + 4KM)
HK$300 per group (For Monster SUP race)
"Free-of-charge" Little Elite SUP race (For participants kids which under 9-your-old, kids racing)Race Categories:
1. MEN'S/ WOMEN'S single SUP LONG COURSE 4KM race
2. MEN'S/ WOMEN'S single SUP SHORT COURSE 200M race
Single SUP participant(s) can bring your own SUP OR borrow LCS specific SUP board to race
3. Group 7ppx Monster SUP RACE
Participants need to use LCS Monster SUP for race (Steven people one group, at least one women or kid under 15 each group)
4. Little Elite SUP race (Kid's under 9-year-old group)
and 11, 2015. Details will be announced on our FACEBOOK PAGE. Come and enroll to our Party!
[tagline_box link="mailto:
[email protected]
?subject=LCS CUP2016″ button= "JOIN NOW" title="Please call 8104 6222 or send mail to
[email protected]
for enquiries"][/tagline_box]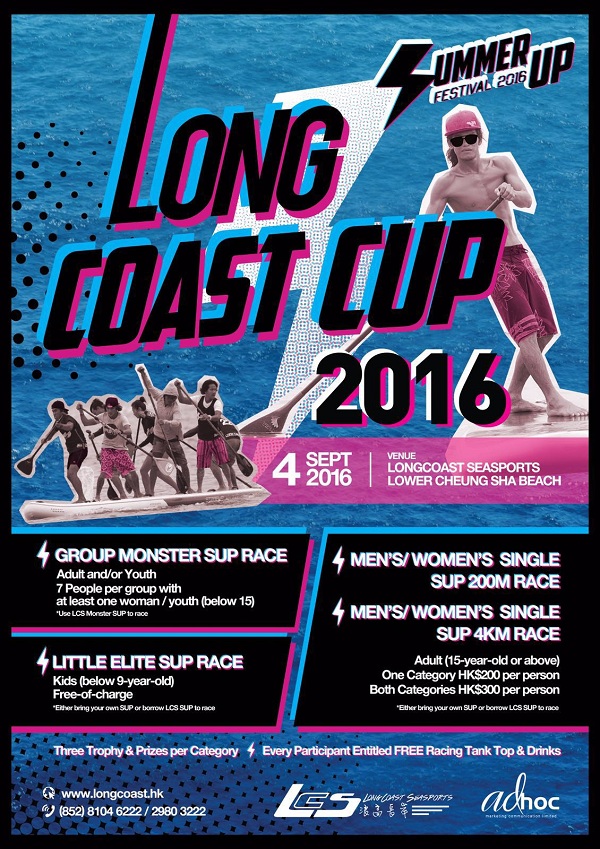 ---
---